You Will Make a Difference
MV Advancements is eager to meet local residents who are interested in volunteering with our community inclusion/day supports and residential programs we provide for our clients.
Opportunities include:
Instruct or assist with an enrichment class —bring your ideas and talents and we will help fold it into our class curriculum.
Share the love of learning by becoming a reading coach or participate in a scheduled reading time with active listeners.
Adventurous outings with small groups of individuals including beach trips, local fairs and outdoor music festivals.
Opportunities to support fundraising efforts and help with community events.
Interested in Volunteering?
Drop us a line and introduce yourself! We will contact you to discuss volunteer opportunities.
Testimonials
My volunteer experience as a reading coach has become more than the original goals of the program. It is also an opportunity to share special time with a friend and go down a new path together every time we meet to read!
Lori Strahm
Retired community member
What a wonderful experience to share my love of art with artists in training. They are very eager to learn and we enjoy our time together. Everyone's art is great and I have been amazed at the beautiful work we've been able to create.
Rudy Van Soolen
A local artist – Eagle's Nest Gallery
Consider volunteering today and find out how much you can smile tomorrow!
DISCOVER YOUR POTENTIAL AS A VOLUNTEER
MV Advancements exists to help adults with developmental disabilities reach their full potential. Community members who volunteer in Yamhill, Polk or Marion counties can discover the immense personal enrichment that comes from working locally with our amazing clients.
SO MANY REASONS TO VOLUNTEER
College students, client parents and local service club professionals are perfect for this opportunity to make a difference. Students may receive course credit for sharing their expertise as a class; parents and service club members can participate in a wide range of group activities.
WHAT CAN YOU SHARE?
If you have a hidden talent that you'd like to share with our clients, we want to hear from you. Are you an engaging storyteller? Love to teach about healthy lifestyles? Got out-of-this-world organizational skills? MVA would love to put your gifts to work!
WE'RE HERE TO HELP
An MVA staff member is on site during all client activities, so volunteers have a resource for assistance if necessary. A background check is required to volunteer as well. Safety for all participants is important to us.
YOU'LL FIND JOY, TOO
Our clients are an inspiring group of adults who love to meet new people, discover fresh adventures and serve in their communities. Volunteers constantly tell us about the breadth of enjoyment they get from working in the MVA universe.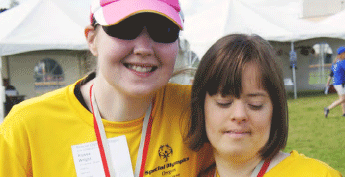 HELP IS NEEDED THROUGHOUT MVA
Even if you don't work directly with MVA clients, there still are dozens of supportive tasks you could help with. Volunteer at our golf tournament or stuff envelopes in a fundraising drive. We appreciate all your talents and will put them to good use.